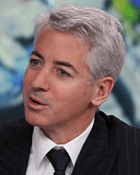 Presenter
William A. Ackman
Managing Member / Portfolio Manager, Pershing Square Capital Management
William Ackman is the managing member and portfolio manager of Pershing Square Capital Management, L.P., a concentrated research-intensive fundamental value investor in long and occasionally short investments in the public markets. Pershing Square has played an active role in creating value at companies including Wendy's International, McDonald's, Ceridian Corporation, and Sears Canada. Prior to forming Pershing Square, Mr. Ackman co-founded Gotham Partners, L.P., a public and private equity investment partnership. Prior to Gotham Partners, Mr. Ackman began his career in real estate investment banking at Ackman Brothers & Singer, Inc. Mr. Ackman received an MBA from the Harvard Business School and a Bachelor of Arts magna cum laude from Harvard College. Mr. Ackman's board memberships include the Board of Dean's Advisors of the Harvard Business School and the Board of General Growth Properties, Inc. Mr. Ackman is also a Trustee of the Pershing Square Foundation, a charitable foundation that he launched in 2007.
Become a TIGER 21 Member
Success is where we begin.
Submit Inquiry
Become a TIGER 21 Chair
TIGER 21 Chairs have achieved the kind of success most people can only imagine. Now is your opportunity to do even more – for you and for others.
Submit Inquiry