ASSET ALLOCATION REPORT 2020: 4TH QUARTER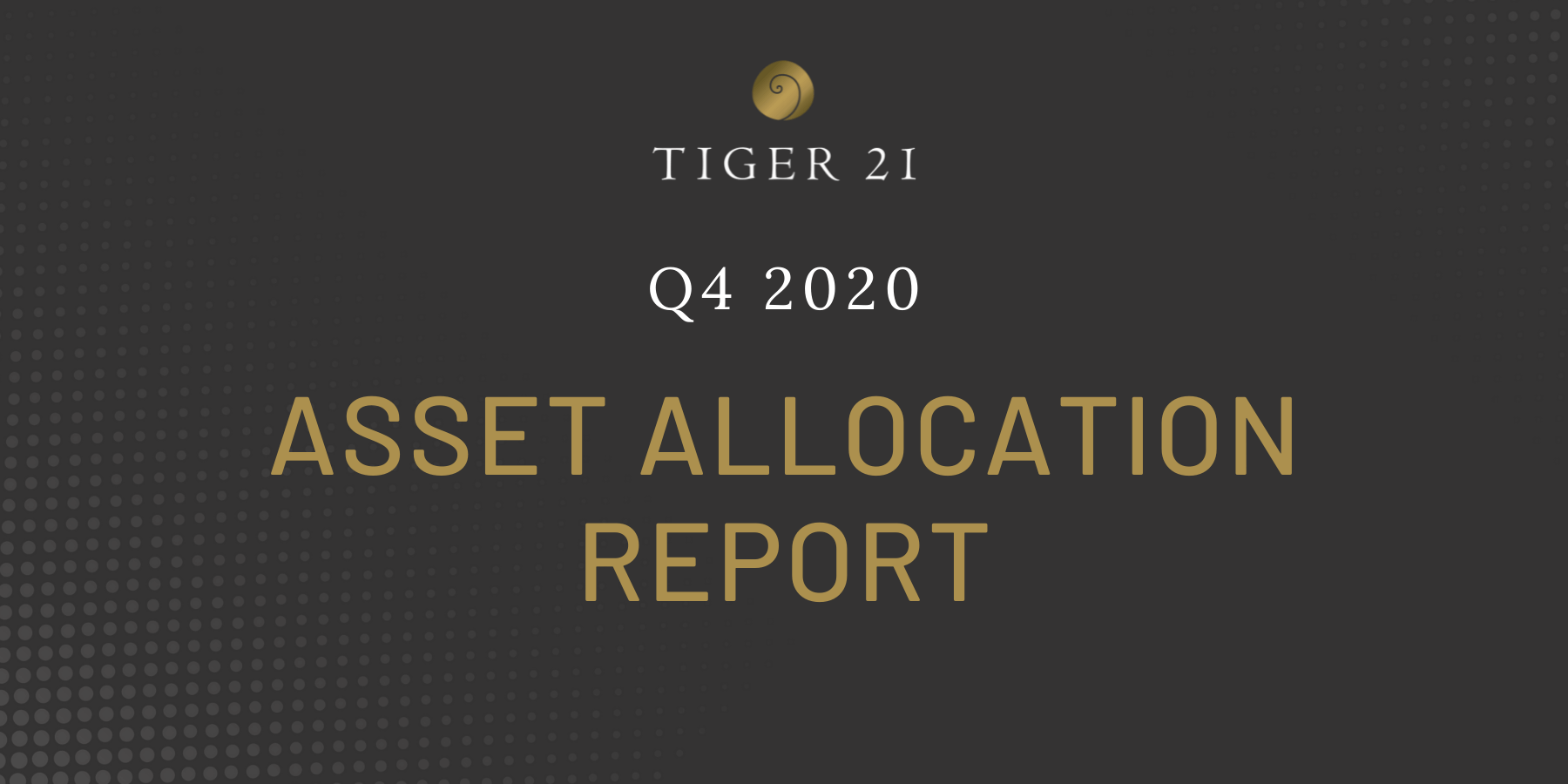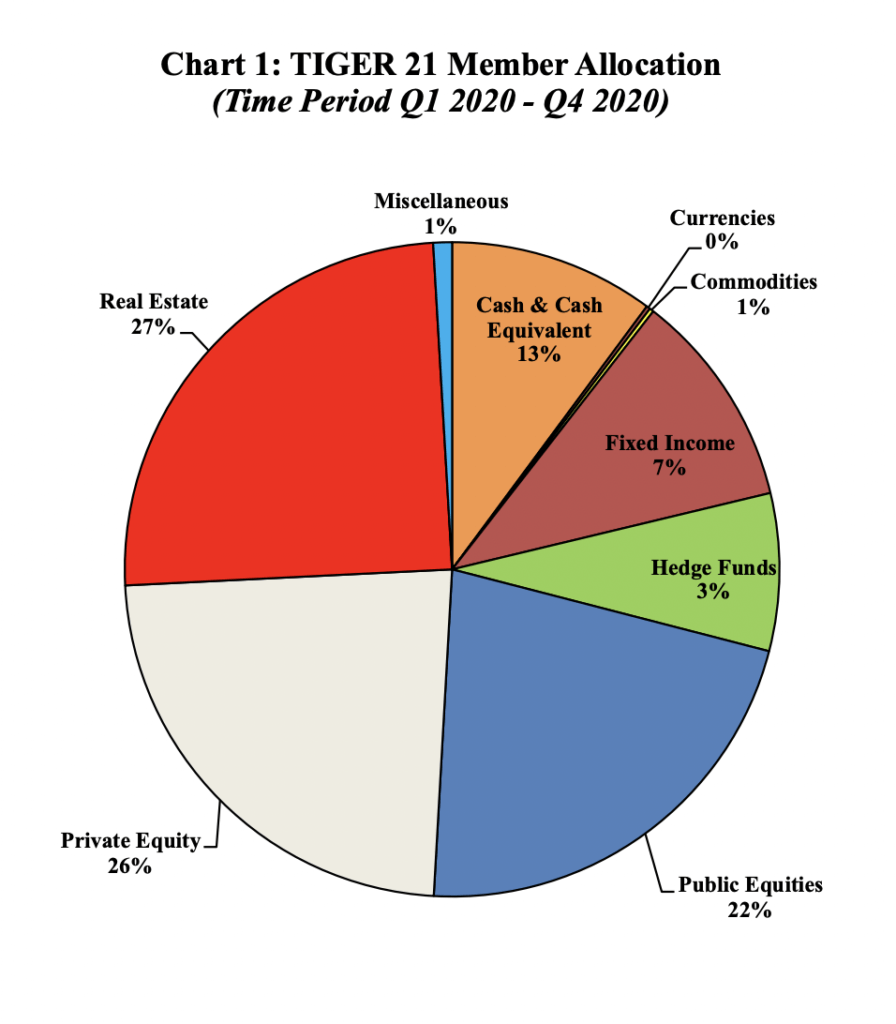 Real Estate and Private Equity are the top allocations in Members' portfolios while Members have reduced their Cash allocation to near pre-pandemic levels. Generally, Members think the worst of the pandemic's impact on markets is over.
For the fourth quarter of 2020, Members have returned to more traditional allocations of Real Estate at 27%, Private Equity at 26%, and Public Equity at 22%. According to TIGER 21's Flash Poll last summer, which supplemented our quarterly Asset Allocation Report during those unprecedented times, Cash peaked at 19% from a historic range of 11-13%, but Members have eased back into investments in areas where they have traditionally allocated their assets.
There have been significant changes in Real Estate, yet it continues to be our Members' largest allocation, as it has been since our tracking started over a decade ago. One of the biggest trends has been people moving out of the biggest cities – probably the fastest shift in residential trends we've seen in a lifetime. Members are finding opportunities in residential, particularly in workforce housing across the country, as well as in industrial Real Estate that serves the last mile deliveries from internet sales that have soared during the pandemic.
Members' allocation to Fixed Income dropped a further one percentage point to 7%, indicating Members' expectation that low interest rates will be maintained by central governments for the near to mid-term. Private Equity remained at record-high allocation and reflected the largest shift in any allocation over the last decade as TIGER 21 Members continue to look to benefit from smaller private companies where they can leverage their own extraordinary skills to help smaller companies grow. Only a small amount of this allocation is invested in Private Equity funds. as our Members prefer either direct investments in companies they do not control, or companies they actually own and lead. A growing interest in venture capital — within Private Equity — reflects the extraordinary returns that have been earned in this area in recent years.
Allocation to Commodities has remained low, even though Bitcoin is growing in Members' intellectual interest, with a handful of Members dramatically increasing their exposure. Hedge Funds remain at historic low allocation, reflecting the continuing difficulty Hedge Funds have to produce acceptable returns in a low interest rate environment (many hedge strategies typically are directly or indirectly tied to the risk-free rate), coupled with the hefty fees typically associated with Hedge Funds that become particularly egregious when the returns are compressed by low interest rates.
Methodology
The TIGER 21 Asset Allocation Report measures the aggregate asset allocations (on a trailing 12-month basis) of TIGER 21 Members based upon their individual annual Portfolio Defense presentations. Each individual Member generally reports on their portfolio annually, so that in any given month of the year approximately 1/12th of our membership reports. Each quarterly data set represents data for the prior 12 months (from quarter's end). This methodology tends to reveal substantive trends more clearly and is less affected by short-term distortions stemming from our growing membership.
Disclaimers
Liability & Accuracy
These materials should not be interpreted as a recommendation or opinion by TIGER 21 that you should make any purchase or sale or participate in any transaction. TIGER 21 does not guarantee the accuracy of or endorse the views or opinions given by the authors of these materials. TIGER 21 will not be liable for any errors or inaccuracies in such materials, or for any actions taken in reliance thereon. TIGER 21 is not a registered investment adviser or broker- dealer and does not provide investment advice or recommendations to buy or sell securities, to hire any investment adviser or to pursue any investment or trading strategy.
Sharing & Distribution
The TIGER 21 Asset Allocation Report is not permitted to be published in its entirety and/or otherwise publicly distributed outside of the TIGER 21 website unless authorized by TIGER 21 PR & Media Relations. Please contact pr@tiger21.com with any questions.
---