Life After Selling a Business V1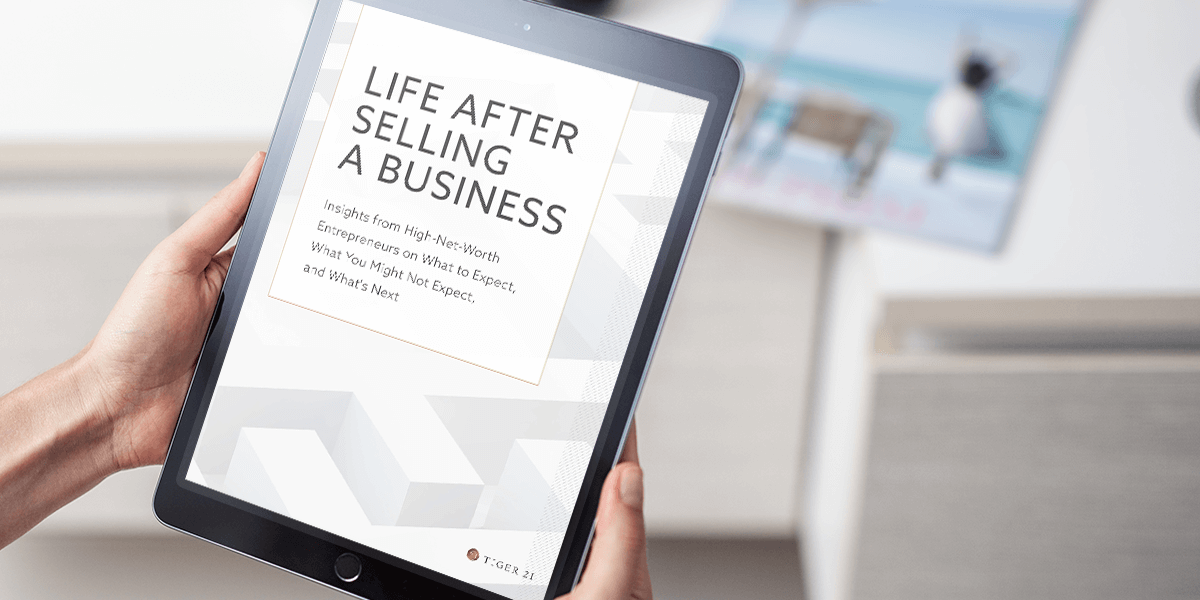 Whitepaper
Life After Selling a Business: What to Expect, What You Might Not Expect, and What's Next
Through our Members' insights, we'll take a closer look into what a business owner or executive can expect after the sale of their business. Broadly, these challenges fall into two overall categories: Financial: including how to manage, preserve, and grow new-found wealth with the help of a money manager or wealth manager. And personal: the long-term implications of the sale of a business can take time to set in and shifts in identity and the loss of community are often challenging.
It is clear that the sale of a business creates significant challenges for the entrepreneurs involved. In our first installation of the Life After Selling a Business Series, we explore how the sale of a company can create ripple effects that stretch far beyond bank balances. Download the full report to learn how TIGER 21 Members navigated personal challenges and made critical business and financial decisions during the transition into life after selling a business.
Below is a snippet of original report:
What to Expect After the Sale of Your Business—and What You Might Not Expect
Everyone's experience selling their business will be uniquely their own. Several TIGER 21 Members shared that they came out of their experience with no regrets whatsoever. Others expressed desires that they had done things differently. Despite the diversity of viewpoints and experiences, many after-the-sale challenges fall into four broad categories. While you may have anticipated some of these, others may come as a surprise.
Financial Implications:
This is one of the first items that comes to many people's minds—the monetary windfall that often results from the sale of a business. Some end up with life-changing money. Others may not receive a dramatic payout but still walk away with significantly more wealth than they previously managed.
The change in finances can create a significant positive impact in many business owners' lives. Many Members develop a new or revise their investment strategy.
TIGER 21 Member Kara Trott has done several recapitalizations of Quantum Health, the consumer healthcare navigation and care coordination company she founded, including the most recent one in December 2020. Over the last several years, she has been shifting her focus from day-to-day management in order to enable the next generation of leaders to take on the execution challenge of a high growth company, and has instead been focusing on leading more from her position as Chair of the Board of Directors.
Where her life after selling a business was concerned, Trott had nothing but positive things to say. She was particularly enthusiastic about the ability her new schedule has given her to pursue other interests.
"I've been able to rebalance my time which has allowed me to take on two board positions at two different universities," she shared. "I'm a governing board member for a regional Make-A-Wish chapter. I can actually get involved in things that I have a personal passion behind."
After the sale of his education software company, Wireless Generation, Inc., to News Corporation in 2010, TIGER 21 Member Greg Gunn also saw his quality of life go up significantly.
"Travel has been more fun and more frequent. I've been able to take my extended family on some amazing trips," he said. "But the more transformative stuff—once I paid off all of my parents' debts, their health improved and their quality of life got better. The best thing that the money granted was extending my family's quality of life."
Download your copy of the full report to get new perspectives on the questions of identity and purpose that confront many entrepreneurs after selling their businesses, or consider exploring the second installment of the series here.
---