Earvin "Magic" Johnson's Insights from the TIGER 21 @Home Summit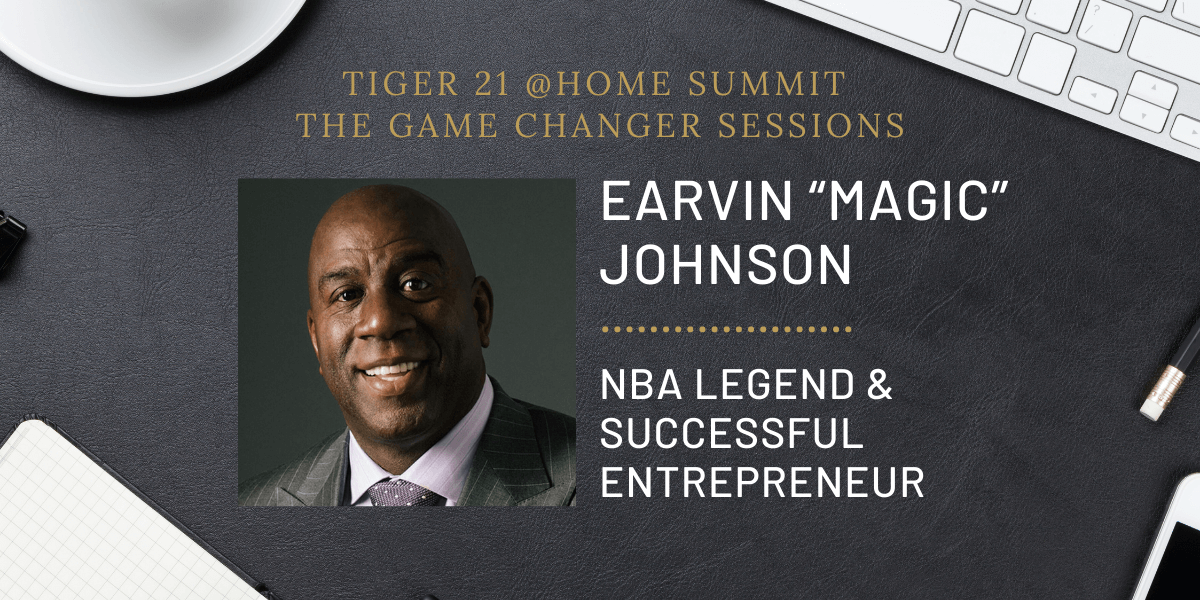 BACKGROUND:
TIGER 21 recently hosted the second installment of its newly-created @Home Summit virtual conference series, titled, "The Game Changer Sessions." This virtual conference was held to share perspectives from top visionaries with its 800+ Members from the United States, Canada, and Europe including keynote speaker, NBA Legend, and Successful Entrepreneur Earvin "Magic" Johnson.
EXECUTIVE SUMMARY:
SPEAKER: Earvin "Magic" Johnson, NBA Legend, and Successful Entrepreneur
Since retiring from the NBA over 20 years ago, the legendary basketball star has morphed into a business powerhouse who has dedicated his life to leaving a positive impact in underserved urban communities as the Chairman and CEO of Magic Johnson Enterprises. We have shared key highlights, paraphrasing his own words, from his "Game Changer Session" in which Johnson reflected on significant moments in his life and shared top takeaways from his work on and off the court for the benefit of other entrepreneurs and business leaders, including:
The Early Years
Uniting the Country
Business Lessons
Making an impact on Urban America, and more.
HIGHLIGHTS:
Becoming a Leader at a Young Age
Back when I was growing up, I had won every championship from third grade to ninth grade. I wanted to go to Sexton High School, which was a 10-minute walk from my house, but then bussing came in right when I was entering high school. I was bussed across town to a white school. There was racial tension and fighting – a tough time for both those who were white and those who were black.
A pivotal moment happened at the bus stop – the principal asked me to come to his office. The top white football player and I were asked to stop the students from fighting. I said I just got here, and I am only 15 years old — how am I going to stop the juniors and seniors from fighting? I ended up telling them we are going to both be here, so we have to work with students who don't look like us and get a quality education at the same time. As a result, there was no more fighting – everyone got along and eventually we won the state championship – first time in school history. I was a leader in basketball my whole life, but that moment changed everything for me. The key in life is mutual respect.
Magic's Hopes for America
Black people want to be valued and to be respected. We want a level playing field and access to capital and growth in corporate America and when we go into the workplace, we want to know that we are respected and that our opinion is valued so we can grow in that company. We do not want to live in fear from law enforcement. 70-75% get along with all people – just a few people are the issue. If we get pulled over, we want to know that nothing bad will happen and we want a level playing field within the criminal justice system.
To unite the country, everyone needs to be willing to set aside their ego and come together to talk and work together. It doesn't matter the color of your skin, religion, gender, and background. Let's just work together and make this country great and special. I respect you and you respect me. It is so divided right now, not enough love and support. It is too much I hate you and you hate me because of the color of your skin. We can't thrive as a country until everyone is respected and can have a seat at the table and a piece of the American dream. I am hoping we can get to that because we are still the most powerful country in the world.
Going Public with HIV
Right before I was told I was HIV positive, I thought I did everything right in my life. The hardest thing was understanding my new status in terms of being HIV positive. I had to tell my beautiful wife who was pregnant with our son EJ at that time. That threw me for a loop. I didn't know what that meant for my wife and my son. The doctor did a physical and both my wife and baby were okay and that was when I knew I could live for a long time. I wanted to help save lives and went public to educate people about HIV and AIDS. I became the face of HIV and AIDS, raising over $20 million for these charities, creating a foundation that will help people pay for their meds and supply housing for people with HIV. It has been almost 30 years since I announced. You could either fall down or fight. I realized I had a lot to live for and wanted to be here for a long time, so I took my meds, have a positive attitude, and I work out – which kept me here 30 years later.
The Importance of a Mentor
I always wanted to play in the NBA and always wanted to be a businessman. Those dreams started in Lansing, Michigan. I wanted to prepare myself to be a businessman and asked Dr. Buss to mentor me in business. He was such a key to my success because he opened up the books to me and taught me the Laker business. I was shocked to see how many revenue streams there were with the Lakers. Those dreams happened when I was playing, but also in the off season when I asked different CEOs what I should look out for. I had lots of mentors along the way – Peter Guber, Michael Ovitz, Earl Graves, Howard Schultz of Starbucks – all of whom have been key to my success. They still mentor me even today.
I am paying it forward. I got Shaq started. I met with Kobe and wish he was still here – may he rest in peace. I mentor a number of NFL players – on and on. A lot of people want me to mentor them – I tell athletes and entertainers do not spend more than they make. They need to think about not just what is going to happen now, but ten years from now. I am working with Serena Williams now. I like mentoring young athletes and young entertainers and others as well.
Staying Competitive — Johnson's Larry Bird of Business
Larry Bird made me a better basketball player – and I did the same for Larry. He made me shoot thousands of shots in the off season because I knew he was shooting thousands of shots a day. My business competitors make me better, too. I don't think it is one person. It is everyone in that sector who is my competitor who is my "Larry Bird of business." I love Larry Bird because he had the same will to win that I had. He did not take one day or game off and that is what made me a better player. Everyone who has a team – make those that you work with and those who you have around you – make them better.
If You Build It, They Will Come
No one believed in my business thesis as they thought there was no money to be made in urban America. African Americans have $1.5 trillion spending power and Latinos have another
$1.5 trillion spending power – and that is $3 trillion of disposable income that I could go after. First thing I did was develop Magic Johnson theaters with Sony in urban America and everyone was shocked when my Los Angeles theater came in as the top 10 highest grossing theater in the nation. We were the #1 group of people to go to the movies, but there were no movie theaters in our community. I knew if we built it, they would come. You have to tweak the business to meet the urban consumer – that is why my per caps were so high in the movie theater business.
Everything turned around with Howard Schulz and Starbucks. Starbucks changed my life – I wanted to be a partner in urban America and built 125 Starbucks in 40+ cities. Reason it happened is I knew minorities liked Starbucks – a place to get a great cup of coffee and a place to get together with friends – but I introduced peach cobbler instead of scones. My per caps were higher than Howard's. In the end, I sold them all back to Howard. This business gave me the track record of success and gave me the opportunity to take my company to another level. Before that banks were turning me down left and right, but after I was able to get a line of credit.
The Impact of Building Businesses in Urban America
Before I started building my business in urban America over thirty years ago, there was no new development or quality retailers coming into urban America. It was supplying jobs for people who lived in those communities and property value went up which made the community proud and they saw someone who looked like them owning the businesses as well. It is very important that you are able to build a business in inner cities where people can walk or have a short drive to those businesses and then the money, they spend will help that community to grow. We have been focused on making things better for those in urban America and they become loyal to my brand and minorities trust my brand.
It's Not Just About Making Money
I look at 20 or more deals a week. It is not just about making money, but there also has to be a giveback component to that deal. If we are not affecting the community in a positive way, then we do not do that deal. Also, how can we give kids scholarships or build a community center? How can we affect change in the community where we are making money from? Do the CEO and I hit it off? We have to check a lot of boxes before we have a joint venture or partnership.
Once we check those boxes then we get involved. We turn down more deals than we actually do. You have to stay disciplined – I learned that from basketball. What is that deal going to look like in ten years? You need to run those numbers in order to have a sustainable business.
CONCLUSION:
For the last twenty or thirty years, I have been doing now twice a year – SWOTs — Strengths, Weaknesses, Opportunities, and Threats – even more important now because COVID has changed things. Make sure you do a SWOT of not just your business, but also as a leader, too. I also use SWOTs to improve as a man, as a husband, and as a father.
---