2019 BERKSHIRE HATHAWAY ANNUAL SHAREHOLDERS MEETING INSIGHTS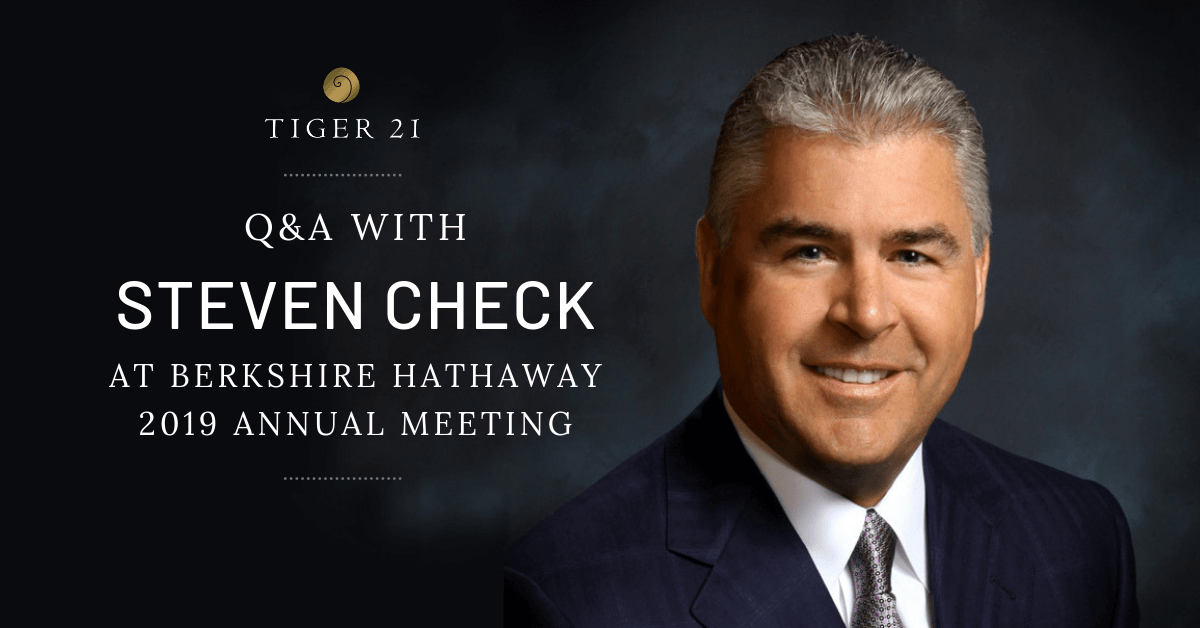 Q&A with Steven Check, TIGER 21 Member and Founder of Check CapitalManagement, Inc.
Steven Check is the founder and President of the money management firm,Check Capital Management("CCM"). CCM manages $1.5 billion of stock and optionportfolios for individual investors. The firm's investment strategy is consistent with the examples of Warren Buffett and other value investors. Berkshire Hathaway has been the largest holding of CCM clients for some time, and Mr. Check has attended Berkshire Hathaway Annual Meetings for 24 consecutive years.
1. What are the top three takeaways from the 2019 Berkshire Hathaway Annual Shareholders Meeting?
New Leadership: We can tell that we are getting closer to the succession from Warren Buffett and Charlie Munger, as Ajit Jain, Berkshire Hathaway Insurance Operations Vice Chairman, and Greg Abel, Chairman and CEO of Berkshire Hathaway Energy, who were promoted a year ago both spoke at this year's Berkshire Hathaway Shareholders Meeting. It is obvious they are very capable, which makes me feel confident in the future of Berkshire Hathaway.
Unique Investment Strategy: While Berkshire Hathaway has underperformed the S&P over the last 10 years, Buffett is always very concerned about limiting the downside and is willing to sacrifice some upside as a result, particularly in a 10-year bull market.
Secret to Longevity: Buffett, 88, and Munger, 95, are the sharpest people that you will ever meet and they manage to stay that way drinking Coca-Cola and eating peanut brittle throughout the whole Meeting.
2. What was the most surprising insight that came from this year's Meeting?
Buffett described the insurance companies of Berkshire Hathaway and how highly he valued them. It was much more than I expected. Buffett said that the insurance companies have $126 billion of float and he would not sell these businesses for that amount because they are worth much more.
3. How have the Meetings evolved since the first one you attended?
The size and structure of the Meeting have changed the most. There were probably about 5,000 people attending in 1996 and now more than 40,000 people attended this year's Meeting. The Shareholders Meeting always took place in Omaha, NE and it looks like Berkshire Hathaway will be staying there for some time as Buffett just announced that he signed a new 20-year lease for its Omaha-based executive office. Also, while the Meeting format is the same, the ability to ask questions has changed. It used to be a lot easier to ask questions and now there is a lottery with only one out of three questions asked by shareholders, while the three analysts and press representatives rotate their questions.
4. This is your 24thconsecutive year attending the Berkshire Hathaway Annual Shareholders Meeting.Why do you attend every year and how was the 2019 Meeting different than last year's gathering?
My firm's investment strategy is consistent with the examples of Buffett and other value investors. The Annual Shareholders Meeting is a great opportunity to hear and see Buffett in person. From year to year the Annual Shareholders Meeting has not changed too much, but you see the biggest changes when you compare the Meeting from ten or twenty years ago. Predominantly, the size of the crowd has grown along with the number of companies on the convention center floor. The media presence has become more extensive with journalists such as Aaron Ross Sorkin, Becky Quick and Carol Loomis asking questions of the Berkshire executives at the event. Yahoo! Finance also live streams the Meeting and conducts interviews throughout the day. Another thing that was different this year was some new faces in the crowd such as Tim Cook, CEO of Apple, who was walking around as Apple is a Berkshire Hathaway holding. He joined Kathy Ireland — the model and actress, turned author and entrepreneur — who attended once again in addition to Bill Gates who has been at the Meeting for over a decade as a Member of the Berkshire Hathaway Board of Directors. A lot of authors, including Dr. Robert Cialdini of "Influence at Work," were autographing their books.
5. How does being a TIGER 21 Member enhance the experience in Omaha?
It was interesting meeting the TIGER 21 Members who attended this year's Meeting. We had a chance to interact with a good group of them as we had about fifteen TIGER 21 representatives attending this event. I think attendees, including me, always leave the Meeting more confident in Berkshire Hathaway and the long-term durability of its business than before they came. Berkshire has always been a top holding of TIGER 21 Members and they see the benefit of attending this Meeting and networking with peers. This will lend itself to more insightful conversations at our Meetings as we return with new perspective to the ten TIGER 21 Groups that we represented from across the United States.
Recent TIGER 21 Insights you might be interested in:
---