PEACE OF MIND DURING THE PANDEMIC: FINDING THE PATH TO HAPPINESS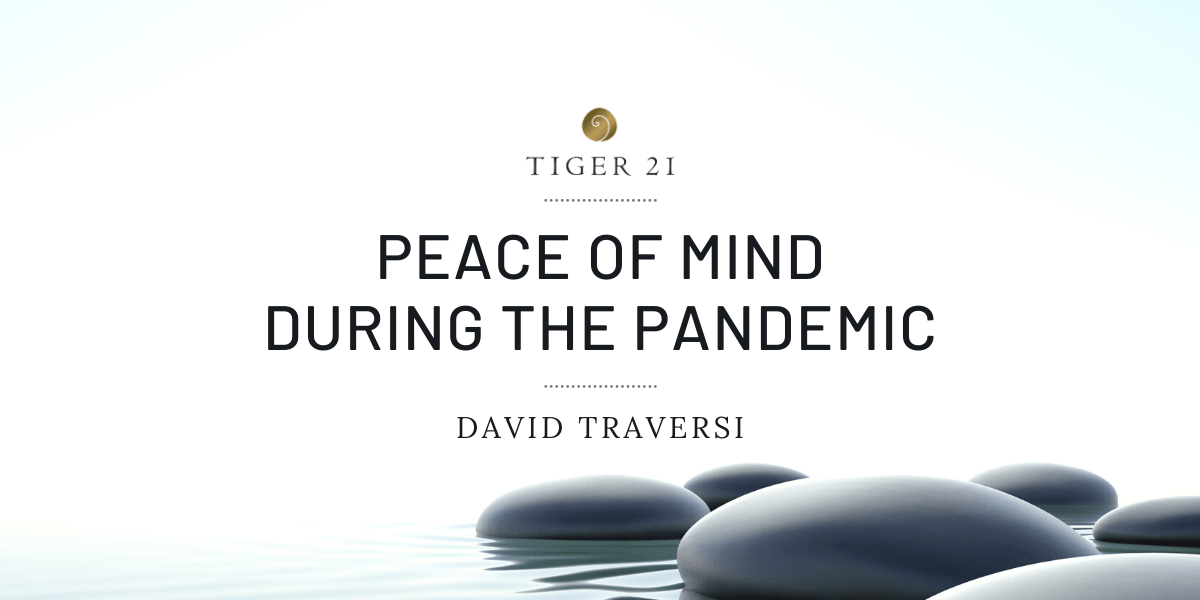 Pre-COVID-19, living in the present moment was more of a "nice to have." For those who could do it, there was compelling evidence that it was a major contributor to achieving success and happiness.
And, by success, I mean, being focused, inspired, open, creative, organized, productive towards the desired result, and able to engage effectively with others.
And, by happy, I mean self-defined, relaxed, secure and confident, positive, successful in relationships, and healthy in mind, body, and spirit.
One could argue, however, it is hard work learning to live in the present moment and the demands of ordinary life don't allow much time or energy for that work. Many people may think "My life is okay, maybe more than okay, and I don't have the time or energy to make it great."
Today we are in the midst of the worst pandemic in global history, resulting in the largest social and economic shutdown in our lifetime, and the stressors affecting each of us are more intense than we have ever experienced. Quite naturally, but quite harmfully, our minds have taken over, begging us to dive into "rabbit holes" with thoughts like:
What if I catch the virus?…What if my family members catch it?…What if my income never returns?…What if the economy is depressed for years?…And on, and on, and on…
Today, we may have no choice, but to learn to live in the present moment. We cannot survive in these rabbit holes, constantly speculating about the myriad of bad things that can happen to us. Before COVID-19, major health organizations reported that one in five American adults suffers from depression severe enough to warrant treatment sometime in their life and, this is rising. One in five suffers from anxiety disorders each year and, this is also rising. Stress is a primary cause of heart disease and strokes. It also contributes to poor nutrition and the consumption of harmful substances. One has to believe these statistics have only worsened in the last month and, think about how all of this affects our immune systems, at a time when we have never needed stronger immunity.

So…how do you avoid these negative thoughts that usually result in negative emotions, and ultimately in negative mental and physical conditions?
By staying in the present.
Negativity does not exist in the present moment. It only exists when thinking about a past event or condition or anticipating a future event or condition. In the present, there is no past or future. There is only now. In the now, there is no negativity.
What does it mean to be present?
We've all experienced it. Think of your first kiss. Think of the birth of your child. Think of skiing down a beautiful black diamond run, or watching the most gorgeous sunset, or diving into the Hawaiian surf. The problem is not that we can't experience it. It's that we aren't experiencing it enough. And by not experiencing it enough, we are not living our best lives.
In my book, The Source of Leadership (2007; New Harbinger), I devoted a lot of pages to distinguishing the present moment from those annoyingly incessant thoughts about the past or future. (And, by the way, thoughts of the past and future offer some benefit, but one needs to learn to wring those benefits from them and then get back to the present and away from all the ways they drag you down.) But here, I'm going to jump right to the key to living in the present moment: separating your mind, the repository of thoughts of the past or future and all that is not real, from the here and now and the only place where everything is real. How? Meditation.
How Meditation Can Help
I started my twice-daily mindfulness meditation practice 22 years ago and wrote about it in my book about 10 years after that. Even 12 years ago, it was considered unconventional, and an outlier among all the life hacks in which one could engage. But today, meditation is mainstream, and if you aren't doing it, you are at a disadvantage in all aspects of your life.
Meditation, particularly mindfulness meditation, helps people stay focused and clear-thinking in high-stress, complex environments;
It lowers stress.
It improves cognitive ability.
It enhances one's ability to remain positive, compassionate, and focused.
It boosts creativity and innovation.
It improves sleep quality.
It improves relationships and overall corporate culture.
Meditation in Corporations
Companies like Google, Apple, Target, Ford, Adobe, Goldman Sachs, P&G, Nike, HBO, Prentice Hall, McKinsey, Deutsche Bank, Fidelity, Aetna, Bosch, Intel, SAP, and many others have meditation rooms and programs in place. And these companies with meditation programs report significant savings in healthcare costs, substantial increases in productivity, and higher employee satisfaction.
How to Begin Meditation
There is a plethora of books on a variety of meditation techniques, as well as many in-person training programs. There are even a number of very good mobile apps (e.g., Headspace) and online sources that help teach meditation techniques.
The positive results from meditation are many and varied. Some are short-term in nature, like the deep relaxation you can achieve in a short meditation session. And, some are long-term, like the slow and insidious way you start to see and feel the real separation between thoughts, which are not real and largely serve as negative influences, and the present moment, the only home of what is real. Right now, we could all use help in dealing with what is likely one of the most challenging situations we will ever face while still maintaining our peace of mind.
David Traversi, San Francisco TIGER 21 Chair, is a former CEO, Investment Banker, Lawyer, Entrepreneur, Executive Coach and Strategic Advisor. David's experience includes the public and private equity and debt markets, institutional fund formation and capital raising, M&A transactions, executive leadership of public and private companies, launching start-ups, and serving on a number of public and private boards. David meets regularly with investors across the spectrum of Angels, Super Angels, Family Offices, VCs, Private Equity Firms, endowments, foundations, pension funds, and other institutional investors. Throughout his career, he has advised and mentored CEOs and their teams. In 2007, his book on leadership, The Source of Leadership, was released to critical acclaim. His recently-launched virtual meditation training website, www.virtualmeditationtraining.com, offers free daily instruction in breath-based mindfulness meditation.
---